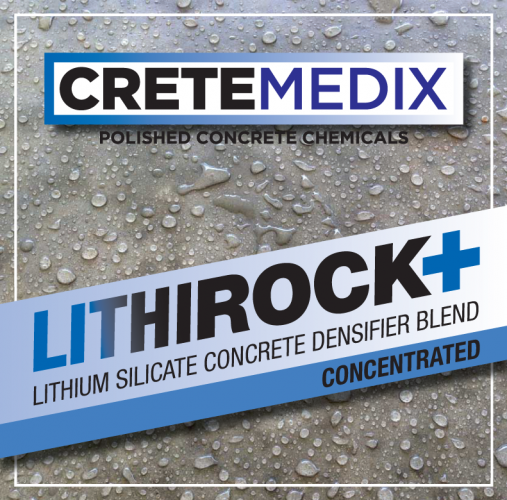 LithiRock+ is a concentrated product based on Lithium Silicate. It must be diluted with water 2 to 1 before use.
Smaller molecule and penetrates deeper into the concrete
LITHIROCK+ is a concentrated blend and must be added to water at a 2 to 1 ratio.
Apply a uniform and even amount of LITHIROCK+ to wet the surface using a clean, microfiber pad. During application avoid any drying areas. Application amounts on surface should remain wet for 5–10 minutes. Avoid puddling. Allow to dry.
Cretemedix Polished Concrete System
PREPARE

with

STRIPALL
STRENGTHEN

with

BEDROCK+, COLLOIDAL DENSE, HybriDENSE, LITHIROCK

or

LITHIROCK+

PROTECT

with

BURNISH GUARD, DEEP GUARD SB, DEEP GUARD WB, FLOUROSHIELD

or

HYDROSHIELD

MAINTAIN

with

CITRA CRETE, CRETE BOSS, DENSI-SHINE, FLUOROGUARD, NEUTRA CRETE, POLISHED CONCRETE BUFF

or

POLISH SEAL