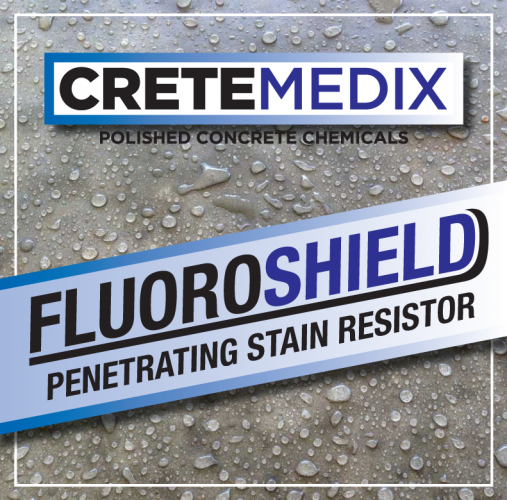 FluoroShield is a solvent based system to protect polished concrete from oils and water based stains. Recommended for use on floor pretreated with HybriDENSE or LITHIROCK densifiers.
Unique Fluoro Chemistry – helps resist oil stains
Repels water born stains
Reacts with concrete to become a permanent part of the surface
Deep penetrating
Maintains breathable surface
Pretest on a small area to assure any slight darkening of surface is acceptable. Apply a thin film to surface with a clean microfiber applicator or an airless pump-up sprayer. Allow to dry.
Cretemedix Polished Concrete System
PREPARE

with

STRIPALL
STRENGTHEN

with

BEDROCK+, COLLOIDAL DENSE, HybriDENSE, LITHIROCK

or

LITHIROCK+

PROTECT

with

BURNISH GUARD, DEEP GUARD SB, DEEP GUARD WB, FLOUROSHIELD

or

HYDROSHIELD

MAINTAIN

with

CITRA CRETE, CRETE BOSS, DENSI-SHINE, FLUOROGUARD, NEUTRA CRETE, POLISHED CONCRETE BUFF

or

POLISH SEAL