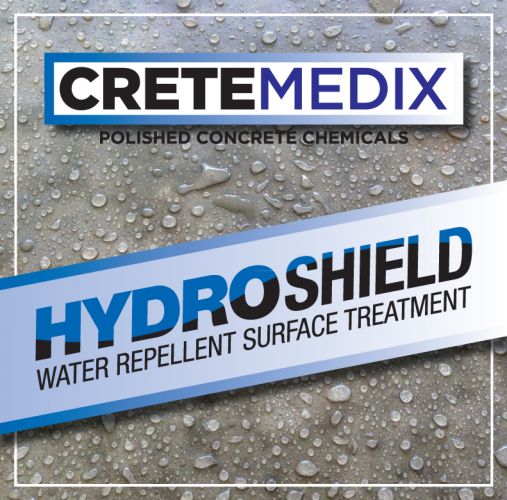 Hydroshield is a water based system developed to provide a water repellent barrier on concrete, terrazzo and masonry.
Prevents water staining and damage
Provides long lasting protection
Apply to surface with a low-pressure sprayer. Spread product out with a microfiber pad if needed to prevent puddling. Surface can be used as soon as it is dry. Full repellency will occur within a full 24 hour cure.
COVERAGE: 400-2000 ft2 per gallon.
Cretemedix Polished Concrete System
PREPARE

with

STRIPALL
STRENGTHEN

with

BEDROCK+, COLLOIDAL DENSE, HybriDENSE, LITHIROCK

or

LITHIROCK+

PROTECT

with

BURNISH GUARD, DEEP GUARD SB, DEEP GUARD WB, FLOUROSHIELD

or

HYDROSHIELD

MAINTAIN

with

CITRA CRETE, CRETE BOSS, DENSI-SHINE, FLUOROGUARD, NEUTRA CRETE, POLISHED CONCRETE BUFF

or

POLISH SEAL