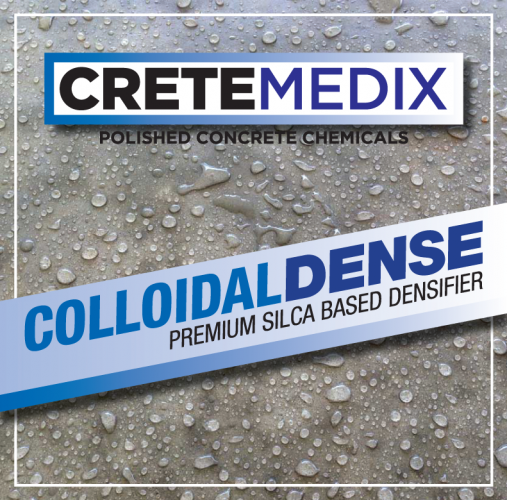 Colloidal Dense is:
99.5% Pure Reactive Silica (SiO2)

60% more reactive than Lithium Silicate Densifiers

Nano-Particle Penetration

Penetrates and Reacts Faster

Reduces Labor and Operating Costs

Enables a Higher Polished Gloss at the Lower Grit

Builds more Calcium Silicate Hydrate Strength

Eliminates the Risk of Whiting

Never Creates Efflorescence

No Residue or Hazardous Waste
Dilute up to 4/1 for application.
Apply with sprayer and spread with clean microfiber pad.
COVERAGE:  350 to 700 ft2 per gallon depending on the porosity of the concrete.
Cretemedix Polished Concrete System
PREPARE

with

STRIPALL
STRENGTHEN

with

BEDROCK+, COLLOIDAL DENSE, HybriDENSE, LITHIROCK

or

LITHIROCK+

PROTECT

with

BURNISH GUARD, DEEP GUARD SB, DEEP GUARD WB, FLOUROSHIELD

or

HYDROSHIELD

MAINTAIN

with

CITRA CRETE, CRETE BOSS, DENSI-SHINE, FLUOROGUARD, NEUTRA CRETE, POLISHED CONCRETE BUFF

or

POLISH SEAL