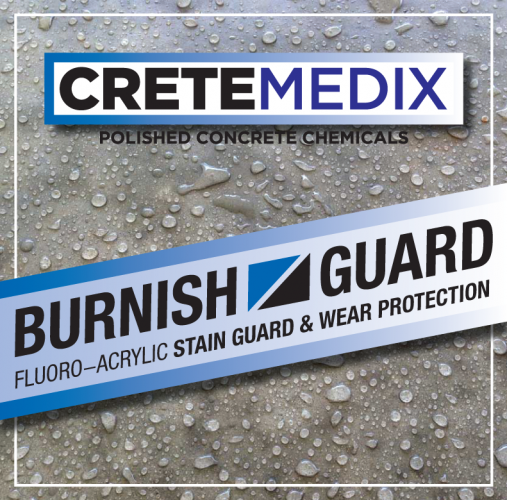 BURNISH GUARD is a semi-topical sealer that helps protect surfaces from stains and etching.
Unique Fluoro Chemistry – helps resist oil stains
Resists stains
Repels water
Harden as it protects, using the best denisfiers
Provides a high gloss burnishable finish
For use on hardened concrete and manufactured stone surfaces
For Indoor Use Only
Apply a thin film to surface with a pre-wetted microfiber applicator and allow to dry. Apply second coat as needed. Burnish with appropriate pad to bring out maximum luster and gloss. Maintain with Neutra Crete cleaner.
COVERAGE: is 2000-3000 ft2 per gallon.
Cretemedix Polished Concrete System
PREPARE

with

STRIPALL
STRENGTHEN

with

BEDROCK+, COLLOIDAL DENSE, HybriDENSE, LITHIROCK

or

LITHIROCK+

PROTECT

with

BURNISH GUARD, DEEP GUARD SB, DEEP GUARD WB, FLOUROSHIELD

or

HYDROSHIELD

MAINTAIN

with

CITRA CRETE, CRETE BOSS, DENSI-SHINE, FLUOROGUARD, NEUTRA CRETE, POLISHED CONCRETE BUFF

or

POLISH SEAL