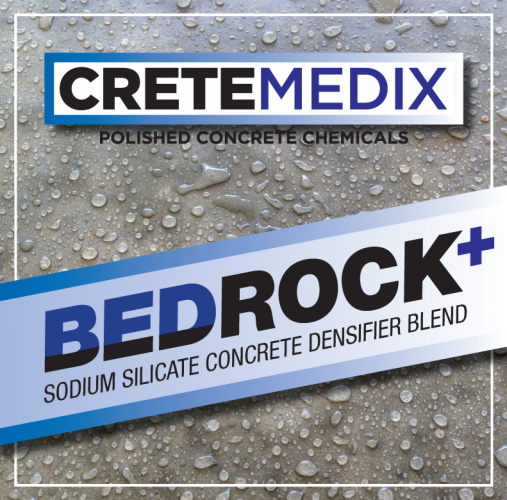 BEDROCK+ is designed to increase the wear resistance and surface strength of polished concrete floors.
Hardens, seals, densifies and waterproofs
Increases longevity of floors
Reduces maintenance costs
Increases light reflectivity
Creates and maintains a longer shine
Resists Dusting
Scrub surface area well with a concrete cleaner. Rinse completely and when area is completely dry, use wax applicator or new lintless mop in applying the sealer and hardener to area. For very porous floors, a second coat is recommend.
COVERAGE: 350 to 500 ft2 per gallon.
DRYING TIME: Free in four hours.
Cretemedix Polished Concrete System
PREPARE

with

STRIPALL
STRENGTHEN

with

BEDROCK+, COLLOIDAL DENSE, HybriDENSE, LITHIROCK

or

LITHIROCK+

PROTECT

with

BURNISH GUARD, DEEP GUARD SB, DEEP GUARD WB, FLOUROSHIELD

or

HYDROSHIELD

MAINTAIN

with

CITRA CRETE, CRETE BOSS, DENSI-SHINE, FLUOROGUARD, NEUTRA CRETE, POLISHED CONCRETE BUFF

or

POLISH SEAL