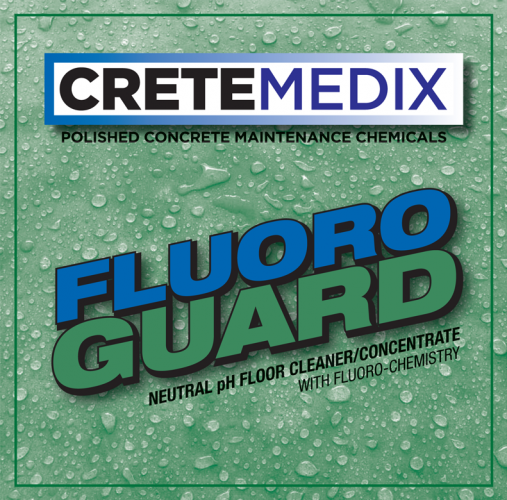 FluoroGuard is a mild "two-in-one" neutral pH cleaning system that removes soils and adds effective oil and stain resistant properties to polished concrete floors.
FluoroGuard deposits a unique fluorochemical microfilm that repels future stains and oil spills.
With each application, repellency is added to the floor as it dries.
Use FluoroGuard in conjunction with an effective first response program for potentially staining spills.
Use 12 oz. per gallon to acheive a sufficient level of residual stain protection.
Cretemedix Polished Concrete System
PREPARE

with

STRIPALL
STRENGTHEN

with

BEDROCK+, COLLOIDAL DENSE, HybriDENSE, LITHIROCK

or

LITHIROCK+

PROTECT

with

BURNISH GUARD, DEEP GUARD SB, DEEP GUARD WB, FLOUROSHIELD

or

HYDROSHIELD

MAINTAIN

with

CITRA CRETE, CRETE BOSS, DENSI-SHINE, FLUOROGUARD, NEUTRA CRETE, POLISHED CONCRETE BUFF

or

POLISH SEAL