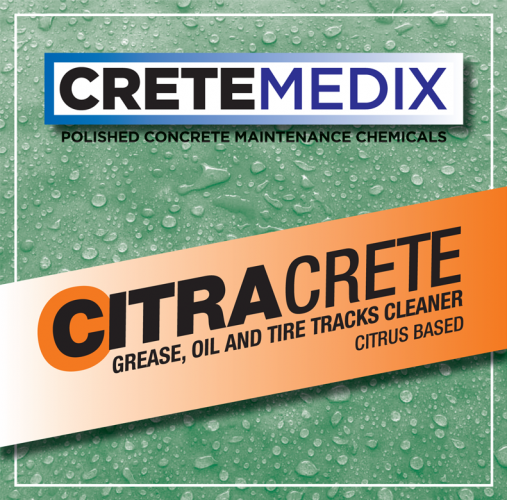 Citra Crete is a citrus solvent based cleaner to remove petroleum based soils such as grease, tar, and engine or hydraulic oils. Heavier soils may require more aggressive cleaning; aggressive to the soil, but not to the polish. Citra Crete solubilizes the oils, emulsifies the droplets and suspends them from the polished surface until they can be removed in the vacuum and rinse stage.
Citra Crete is highly concentrated and is designed to be used full strength. For economy and light cleaning, dilute with water up to 1:1 or as needed to achieve desired results.
CAUTION: Confirm that any exposed gasket materials used in auto scrubbers is compatible with product.
Cretemedix Polished Concrete System
PREPARE

with

STRIPALL
STRENGTHEN

with

BEDROCK+, COLLOIDAL DENSE, HybriDENSE, LITHIROCK

or

LITHIROCK+

PROTECT

with

BURNISH GUARD, DEEP GUARD SB, DEEP GUARD WB, FLOUROSHIELD

or

HYDROSHIELD

MAINTAIN

with

CITRA CRETE, CRETE BOSS, DENSI-SHINE, FLUOROGUARD, NEUTRA CRETE, POLISHED CONCRETE BUFF

or

POLISH SEAL