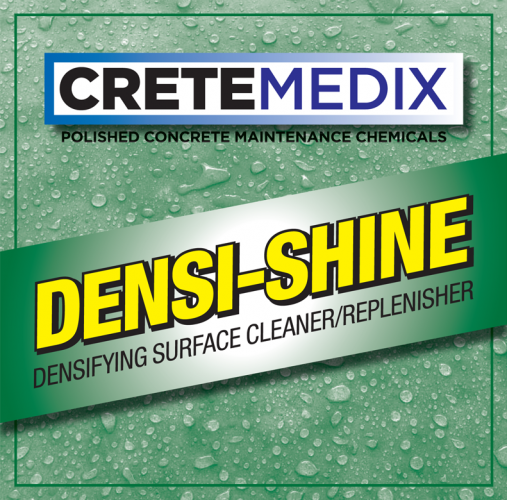 Heavy traffic areas can lose polish and protection over time. Densi-Shine helps to re-densify worn areas and strengthen the polished concrete and terrazzo surface as it cleans away general types of soils. It restores the repellency properties created with our HybriDENSE densifier application.
Each time the floor is cleaned with Densi-Shine it progressively hardens the polished concrete or terrazzo surface.
Densi-Shine is highly concentrated, dilute as needed to achieve desired results.
Light Soils: 2-4 oz. per gallon of water.
Heavy Soils: 4-8 oz. per gallon of water.
Cretemedix Polished Concrete System
PREPARE

with

STRIPALL
STRENGTHEN

with

BEDROCK+, COLLOIDAL DENSE, HybriDENSE, LITHIROCK

or

LITHIROCK+

PROTECT

with

BURNISH GUARD, DEEP GUARD SB, DEEP GUARD WB, FLOUROSHIELD

or

HYDROSHIELD

MAINTAIN

with

CITRA CRETE, CRETE BOSS, DENSI-SHINE, FLUOROGUARD, NEUTRA CRETE, POLISHED CONCRETE BUFF

or

POLISH SEAL