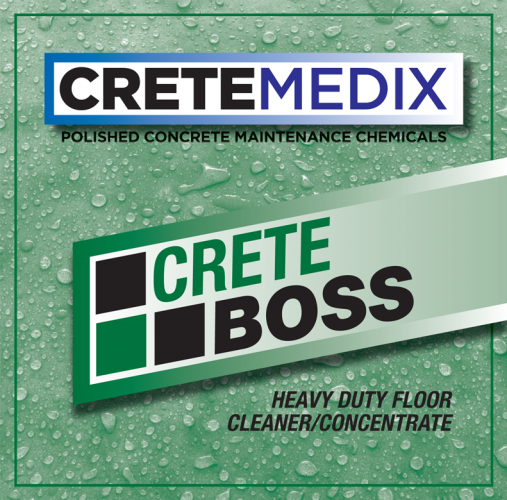 CRETE BOSS is an alkaline cleaner specially developed to remove soils comprised of vegetable and animal fat and grease. Crete Boss saponifies these types of soils in a useful soap that aids the cleaning process.
Concrete is a reactive surface, therefore use CRETE BOSS with caution on the most heavily soiled areas. Pretest a small area.
Ideal for use in automatic scrubbers
Use dilution depends on surfaces and soiled conditions.
Average soil: Use 4-6 oz. per gallon of water.
Heavy soil: Use 8-10 oz. per gallon of water.
Cretemedix Polished Concrete System
PREPARE

with

STRIPALL
STRENGTHEN

with

BEDROCK+, COLLOIDAL DENSE, HybriDENSE, LITHIROCK

or

LITHIROCK+

PROTECT

with

BURNISH GUARD, DEEP GUARD SB, DEEP GUARD WB, FLOUROSHIELD

or

HYDROSHIELD

MAINTAIN

with

CITRA CRETE, CRETE BOSS, DENSI-SHINE, FLUOROGUARD, NEUTRA CRETE, POLISHED CONCRETE BUFF

or

POLISH SEAL